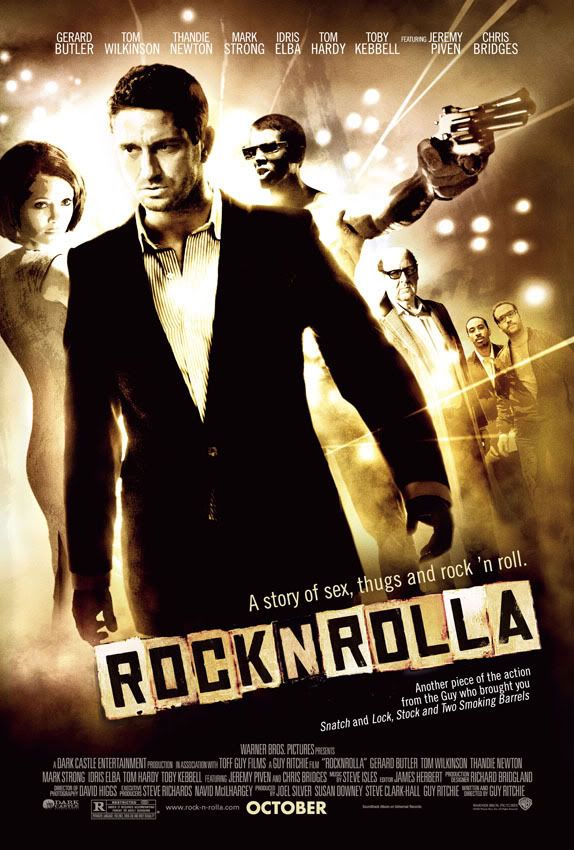 English director
Guy Ritchie
is known for crime films, so it's no surprise when seeing his latest creation,
RocknRolla
, to find that is revolves around the British underworld.
London gangster and real estate tycoon Lenny Cole (Tom Wilkinson) is making a deal with a Russian billionaire (Karel Roden). To seal the deal, the Russian loans Lenny his prized "lucky" painting. Unfortunately for Lenny, the painting is stolen by his stepson, a crackhead missing-presumed-dead rock star named Johnny Quid (Toby Kebbell), the titled RocknRolla. Meanwhile, the Russian's personal accountant Stella (Thandie Newton), is bored and looking for excitement, and hired a trio of gangsters called the Wild Bunch (Gerard Butler, Idris Elba, & Tom Hardy), to help her steal from her boss. Ultimately, they all explosively collide, everybody trying to claim their fortune.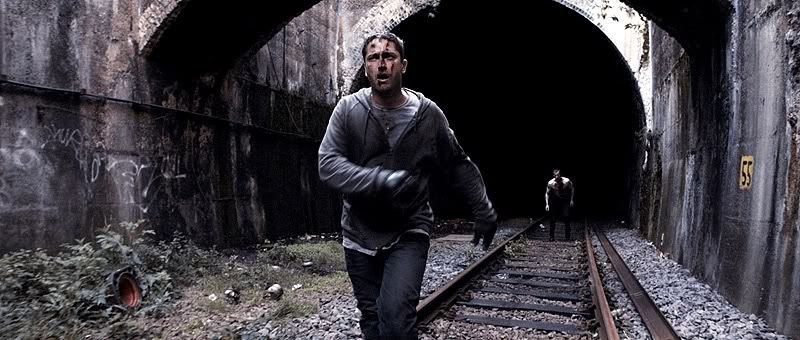 The Pros: This film isn't called RocknRolla for nothing. Just like the trailer, this film's soundtrack is filled with rock music various artists. The music is all but constant, even though RocknRoll has little to nothing to do with the plot. The dialogue is very well-written and witty, including lines like "there's no school like the old school, and I'm the @#$%ing headmaster".
The Cons: While the film is hardly boring, it's far from action packed. The violence is surprisingly tame a very infrequent. The first action scene occurs well over and hour in. And as hot as Thandie Newton is, all she does is stand around smoking and talking, with the exception of one 5-second sex scene where all we see is her face. The plot is a bit nonlinear and muddled, and the side plot with the Wild Bunch and Stella feels pretty unnecessary.
The End: "People ask the question...what's a RocknRolla? And I tell 'em - it's not about drugs, drums, and hospital drips, oh no. There's more there than that, my friend. We all like a bit of the good life - some the money, some the drugs, other the sex game, the glamour, or the fame. But a RocknRolla, oh, he's different. Why? Because a real RocknRolla wants the @#$%ing lot." These are the opening lines of the film, and they describe what's to come pretty well: a tale filled with dangerous characters that want it all. And while this is definitely Guy Ritchie's best work in a while, it's hardy Reservoir Dogs. It's an interesting Dark comedy, but ultimately promises more than it delivers. Ironically, this British film has gained better reviews here in the US than the UK. Though Guy Ritchie claims a sequel isn't certain, the ending of this film doesn't just hint at one, it explicitly names a sequel. So if Guy Ritchie gets his way, expect The Real RocknRolla before long.
My Rating
: